It began rough. The trip that is. A greyhound bus from Birmingham, AL to Atlanta, GA was taken at 12AM Friday morning. My flight left out of Atlanta early in the morning, and the because I didn't plan on driving myself and paying for parking I was on that bus. Sitting next to a nice Mediterranean woman, who spooned me, I began my journey. We arrived in Atlanta and I hopped in an uber to the airport. I go through security and ride the underground train to my terminal. Thank God there was a coffee shop open at 5AM or else I might not have made it. I send some emails and then depart for San Francisco. Sitting next to the nicest lady who was headed to see her grandchildren for the holidays. I thought she was such a badass because she threw her bag up in the overhead compartment with ease. I said "Whoa" and she sat down and said, "I used to work in a paint shop and lug around 33 pound buckets, that was nothing sweetie." I immediately decided we would be best friends. I never asked her name, but we both enjoyed flying over all of the different terrains. Especially the mountains. We landed in San Francisco and me and my new friend were excited to start our adventures. We grabbed our bags and she gave me a BIG hug and said, "You be safe darling!" I thought this is a great start to my trip!
I got on the BART, the rapid transportation that takes you directly into the city, and I continued my rat race. To get to Powell & Market Street it costs about $8, compared to an uber that would cost $30-40. I bought a $20 card that would get me to and from the airport. The train ride was about 20 minutes long. I made sure to not miss my stop, and then headed up a couple of escalators to street level. I gasped when my eyes met the city, it was love at first sight. The victorian homes paired with the clanking street cars were enough to make me sell an organ then move to San Francisco.
I was planning on staying in a hostel to save money. It was called Hostel Adelaide. I thought it was fate! I get to this hostel and I have good vibes at first. They were bumping Kaskade Christmas. I was like I can vibe with this. My check-in time was later, so I put my things in their storage and then headed out into the city. I needed to send emails and do some work on my laptop, so I ordered an Uber to Sight Glass Coffee. Let me say, this coffee was delicious, but the lack of Wi-Fi was NOT. I grabbed my cold brew and ordered another Uber (they cost like $4 here) for Cafe Cento, a place with Wi-Fi. I get to this part of town and it is just beautiful. The Nob Hill neighborhood was giving me really good vibes. I just ended up walking around aimlessly taking it all in. My check-in time at the hostel rolled around and I headed back to sketch city. I get back to the hostel, she gives me a key and was like, "good luck." I get up to the room and I was like, NOPE. So I set my things down, and called the Fairmont Hotel, which was right next to Cafe Cento. They were so nice and accommodating and hooked me up. I checked out of sketch city and headed to the Fairmont. I get to my room, and I'm like, this is more like me. Let's just say I am not made for the hostel life, and I am perfectly fine with that. I took an hour long bath with a glass of Pinot Grigio and called it a night.
The next morning I woke up pretty early and wanted to go to Saint Frank Coffee. This is the coolest little local spot that has a simple menu and engaging employees. I ordered a cold brew and sat down to take in the scenery. Two girls sat at my table and started talking about work and friends and what-not. I leaned over with a not-so-subtle, "Will one of you take my photo where I'm laughing and not looking at the camera, but also look cool?" They happily obliged. They were both from the South East and we chatted for a little while about how different San Francisco is from the South. They figured I looked like a girl who loved shopping, so they sent me over to Fillmore Street to check out the local shops. I figured my days would end up going like this, start with one plan, then just see where it takes me. I hopped in an Uber and headed to Fillmore Street.
I got out of the Uber and was immediately reminded of SoHo in Manhattan. The shops range from high-end to local boutiques. I strolled down the street looking for something that caught my eye. I saw a big, bold, "LIP LAB." First impression: incredible branding, store display, and service menu. I asked one of the employees about the brand and the services. She said there were two options, you could get one or two custom lipsticks made for you in the store, or a lip kit made for you. At first, I didn't want to get a lipstick because I already own dozens. But she sold me the brand and I wanted to go through the experience. So, I sat down with Ooma and she hooked ya girl up. First Ooma gave me their Agave Lip Mask that primes and protects your lips. Then she gave me some Agave Lip Scrub that prevents the feathering of the lips. Then Ooma gave me the Agave Lip Balm which has vanilla and agave that is an all organic lip balm. We then began to decide which lip color would work for me everyday. She asked me about my preferences in lipstick: Matte finish, Glossy finish, long-lasting, etc. They give you a plastic card with the different swatches you have tried to compare and contrast your decisions. I ended up going with a mix of red, pink, & purple. Something super hydrating that is long-lasting but with a Matte finish. You also get to pick a scent! I picked wild berry. After you decide on a color, they mix up the ingredients and shake, mold, and freeze the lipstick. The process takes about fifteen minutes, but that was fine because me and Ooma were talking about her dreams and what she wants to do with her life. Bite Beauty Lip Lab was so much fun! I would definitely come back here for the experience and the product!
I left Bite Beauty and headed into a few different stores to shop. Everything was so different than anything in the South. T-Shirts over there start at 60 bucks. I was getting hungry so I was trying to find a place to eat lunch. I had asked the girls where the best place to eat around Fillmore Street was and they said to go to "The Grill." I am guessing it was a super local place, because I couldn't find it anywhere. So I went to IN-N-OUT at Fisherman's Wharf instead.
After my 1,500 calorie lunch, I was feeling super good about myself so I decided to rent a bike. Funny thing about the bike, the tire was flat from the very beginning and I had my headphones in and people kept looking at me funny. I was like, "y'all ain't ever see a girl ride a bike!?" I then realized my back tire was flat so it was making a loud clanking sound. Oh well, not turning back now. I actually biked right around 8 miles. My butt hurt from all the bumps. But it was all worth it because I biked all the way to the bridge and watched surfers for an hour. It was so peaceful. The surfers wait for big boats to come by and then rode their waves into the shoreline. I was so impressed at how they managed to avoid all of the rocks nearly feet away from them.
I dropped my flat-tired bike back at the shop and wanted to go walk and see the seals at Fisherman's Wharf & Pier 39. This area is a tourist trap and I am not about that life, so I didn't stay long. But I did watch the seals play for twenty minutes and it was so worth it. It was starting to get dark, so I decided to head back to my hotel and order room service for dinner. I was going to go to a drag show, but I ended up watching FloraBama Shore in my hotel room instead. I was more than content.
The next morning, I had an appointment at DryBar. My FAVORITE place to go to when I am in a city where there is a location. My appointment was at 9AM and I was so excited. The best part of waking up is when you don't have to do your own hair. In the branding world, DryBar runs in the top spot for sure. Their Instagram is flawless, clad with subtle yellow touches throughout their grid. They are an incredible inspiration for socials, and their stores are always on brand. The yellow hairdryers, the yellow aprons, the products displayed on the counter top. They even have a yellow hairdryer chandelier. They also have a look book at each spot that lets you pick your style. Their branding slays me because every product or hairstyle is named after a real-life cocktail. I ended up getting the Mai-Tai, which goes perfect with my 'may I please speak to your manager' haircut. They use all of their products on your hair and my personal favorite is the Triple Sec 3-in-1. It instantly texturizes and adds volume to your hair. It makes your hair look perfecly touseled.
After DryBar I ended up going to the place called, Taylor's Coffee Shop. It was this hole-in-the-wall diner with a killer brunch. I ordered french toast and bacon. Let me tell you about this bacon. It was the thickest bacon I have ever seen. I wish I had a picture, but I ate it too fast. It also had this chili pepper spread on it and I am getting hot just thinking about it. It was so cold outside so I decided to head back to my hotel to regroup my outfit. But before that, I walked through Union Square, which gave me major NYC vibes. There was an ice rink and people were skating with their family, it was so cute! Around me was, Neiman Marcus, Tiffany's, Macy's, & Saks. It felt like 5th Avenue in NYC.
After the outfit change, I decided it was time to go site seeing! I started out at the Painted ladies. I was looking for Uncle Jesse but he never showed up. It was so iconic. I watched Full House all the time when I was younger. The real life view looked exactly like the scene I had seen on TV or all of those years. I then went to the 16th Avenue Tiled Steps. This had the best view of the ocean I have ever seen. I started getting major Zoey 101 vibes and wanted to fill out an application for PCA. Everyone in San Francisco is really friendly when you speak to them. Many people were very willing to take a photo for you, except that one asian lady on the top of the hill - I'll remember you.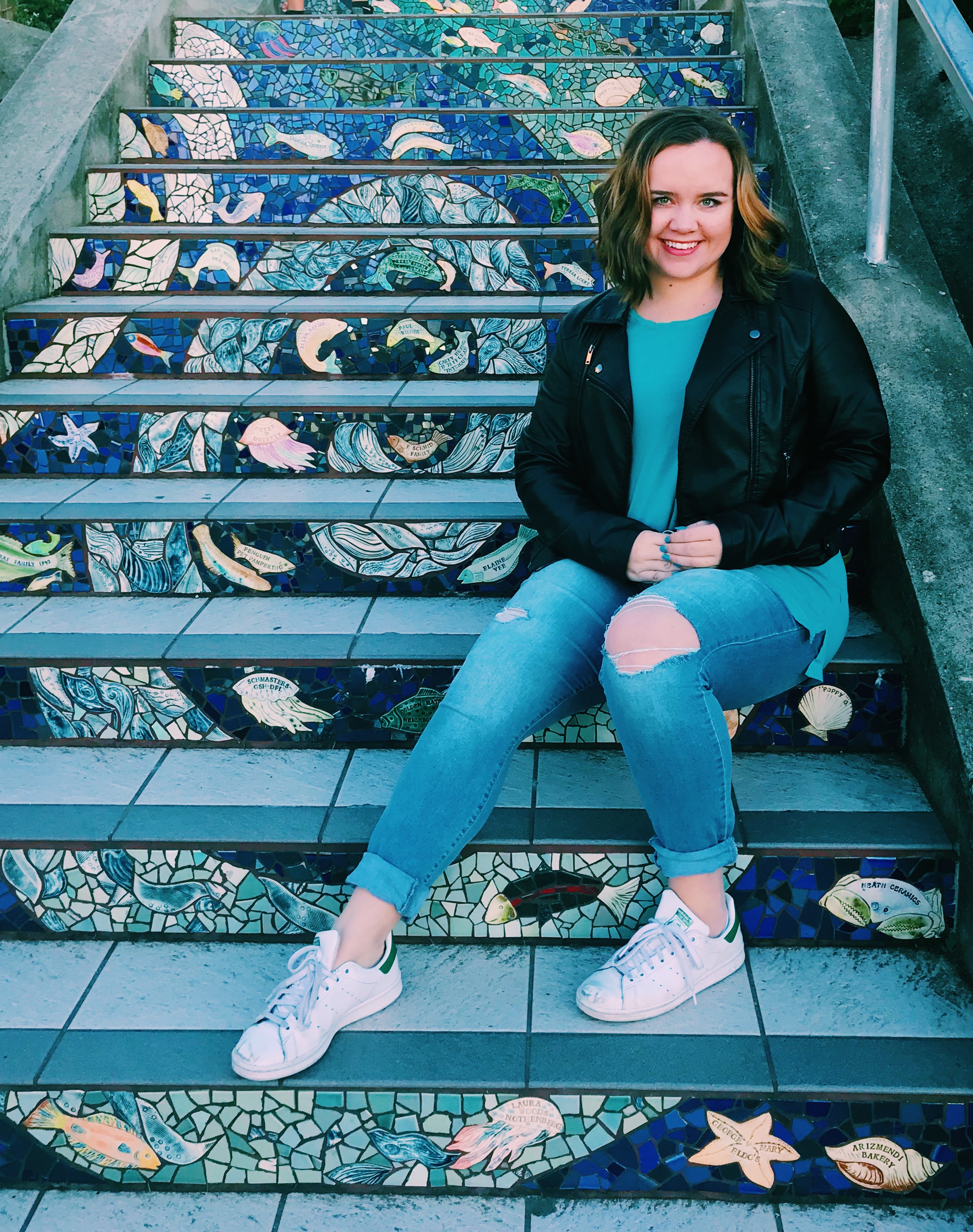 Next I started craving the Ocean, and I needed to be near it. I went to Land's End Park and started hiking down the big hill. I wanted to put my toes in the Pacific Ocean! This was my favorite part of the whole entire trip. The sun was setting on this beautiful beach with rocks peaking out of the water. I walked along the beach and thought about that bacon from earlier in the morning. I just couldn't get it off my brain. The beach is super rocky so I had to put my shoes back on. I hiked up the hill and found this cool look out with some rock formation. There were a lot of people up here just interacting and watching the sunset together. I took a few couples pictures. Got a high-five from a little boy. It was just serene and beautiful up on the look out. Everyone was on a high from the sunset (or something else I mean I was in California). I watched the sunset and then took an uber back to my hotel. This was the perfect way to end my weekend in San Francisco.
I am obsessed with the ocean, and that is why I built my brand around ocean colors and ocean scenery. San Francisco was the perfect place to take AMD and test out some brands I love. From the eclectic stores to the beautiful scenery, it was a literal breath of fresh air. I would travel back here in a heart beat.
Until next time,
San Francisco!